Q&A: Form I-864, Affidavit of Support.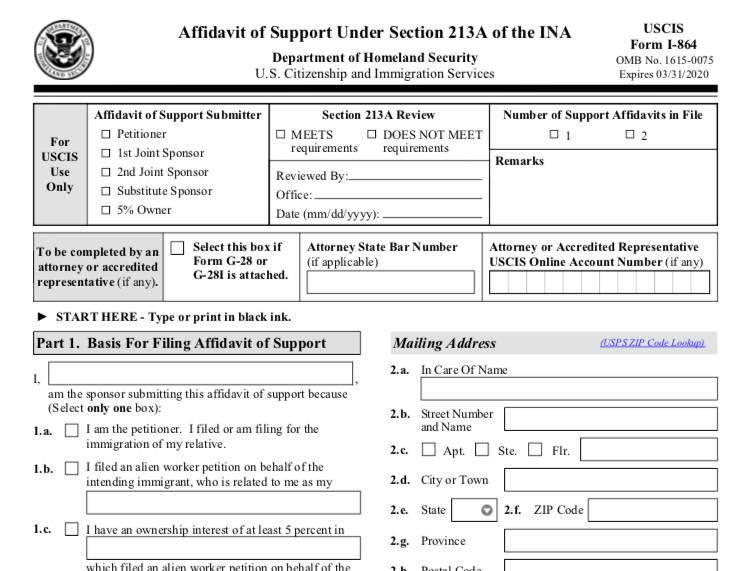 What is the Affidavit of Support?
The Form I-864, Affidavit of Support, is required for most family-based immigration processes. It is enforceable against the affiant by either the sponsored person or a local, state, or federal government. INA § 213A. The purpose of the form is to ensure that a sponsored person does not become a public charge (ie., receiving means-tested benefits) after admission to the United States.
Public charge is a factual determination conducted at the time of admission based on the sponsored person's age, health, family status, assets, resources, financial status, education and skills, or any other appropriate factors. INA § 212(a)(4); 22 CFR 40.41; 9 FAM 302.8-2(B).
2. What is the legal effect of signing the form?
This is a legally binding contract between the Petitioner (U.S. citizen/lawful permanent resident) and the U.S. government. By signing this form you agree that the government can consider your income and assets as available to support the sponsored person.
This means, the Petitioner must provide the sponsored person any support necessary to maintain him or her at an income that is at least 125% of the federal poverty line based on the household size. This poverty line is redetermined annually, and updates are issued on Form I-864P, available at www.uscis.gov.
3. When does the obligation begin and end?
The obligation begins when the Immigration Services Officer or the Immigration Judge grants the immigrant's application for admission or for adjustment of status. 8 C.F.R. § 213a.2(e). The sponsored person becoming a lawful permanent resident is the consideration for the contract.
The obligation will end if the person who becomes the lawful permanent resident:
Becomes a U.S. citizen;
Has worked, or can receive credit for, 40 quarters of coverage under the Social Security Act;
No longer has lawful permanent residence and has departed the U.S.;
Is subject to removal, but applies for and obtains, in removal proceedings, a new grant of adjustment of status, based on a new affidavit of support, if one is required; or
Dies.
4. Can I withdraw my Form I-864 Affidavit of Support form?
Yes, but the withdrawal will only be effective if it is received by U.S. Citizenship and Immigration Services before the sponsored person receives a decision on the green card application. 8 C.F.R. § 213a.2(f)(2)(2019).
5. Can my ex bring it up during our divorce case?
Yes. A California appellate court ruled in 2017 that the issue can be raised during a divorce even though it is a contract claim. That same court held that the sponsored spouse has no "duty to mitigate damages," which means that he or she does not have the responsibility to get a job or otherwise become self-supporting. See In Re Marriage of Kumar, (2017) 13 Cal.App.3d 1072.